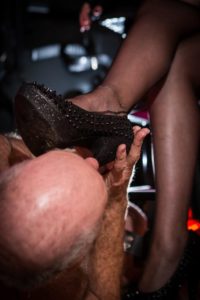 We currently have space in the diary to accommodate a Professional, having been in this location for near 15 years we can confirm there is a lot's of business in the area and it is an ideal opportunity for someone looking to have a successful career in the Industry,
In an ideal world we would be looking for an experienced professional who is looking to work from a well equipped well situated dungeon and build a good business, there is very much room to do that at our location on the outskirts of Milton Keynes, the right person could be earning from day one.
Fallen Angel is a very densely equipped dungeon having been the former play space of DominaSara, whilst she is still very much around she has for some years specialised in Medical and has a multi roomed suite dedicated to that career path.
The pictures currently on the site will give you a reasonable over view of the studio but within weeks of posting them they were already out of date as the studio is forever being updated, it looks even better in real life than in the current pictures. It is without any doubt one of the UK's premier play spaces.
In the first instance contact us via email and we can arrange a time for you to come over and meet us, look over the premises and from there hopefully we can move forward.
Best Wishes….
Mel&Tony